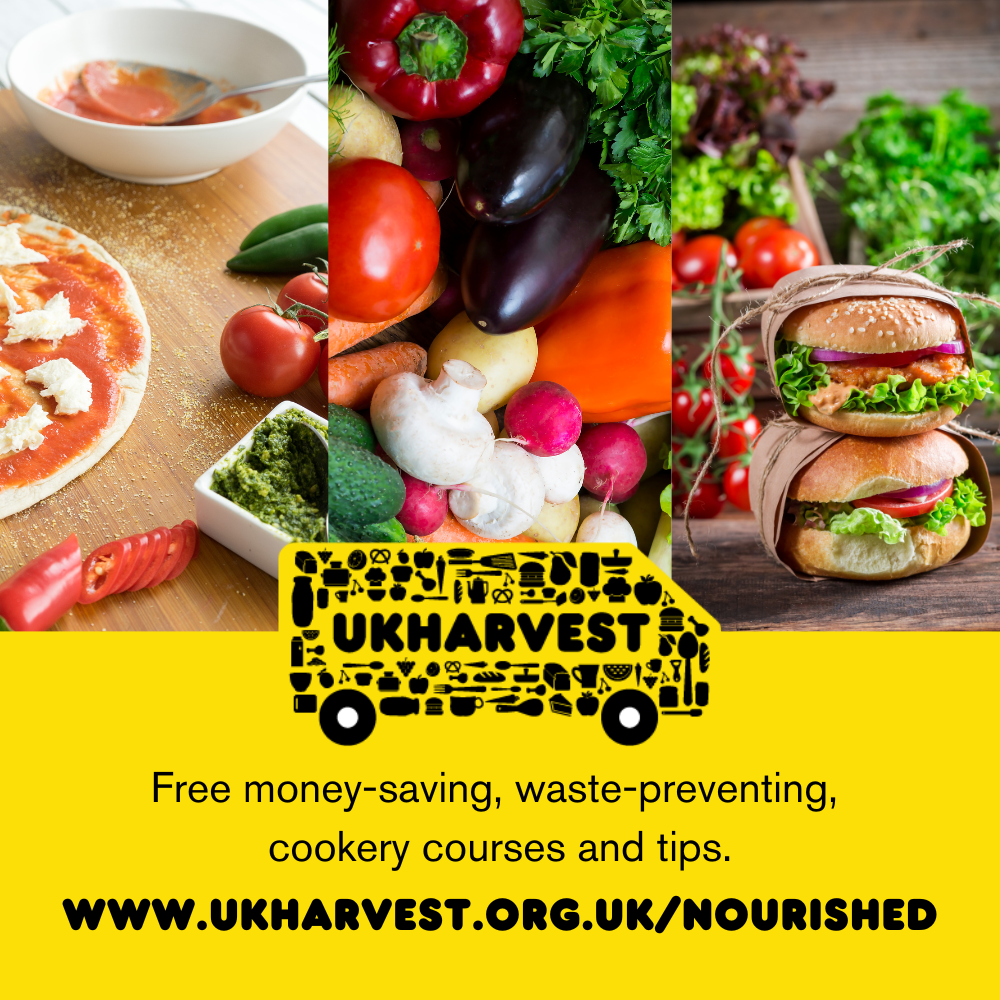 UK Harvest are a charity on a mission to Nourish Our Nation; protecting the environment by rescuing good quality food destined for landfill and educating on nutrition, cookery skills, reducing food waste in the home and more recently energy efficient cooking skills using a microwave, slow cooker and air fryer.
We are offering free money-saving, waste preventing, online cookery sessions that could benefit you.  These are fun-filled live cook-alongs on Zoom and if it isn't possible for someone to join the online sessions, if they register then we will send them the recording of the session. We also have a range of free resources available to on our website and on our UKHarvest Youtube channel, as well as recipes such as:
Chilli Chicken Casserole Cook-along 20-3-23
This project has been funded by Tesco Community Grants and is being made available throughout the country.
Our team of professional chefs, qualified nutritionists, experienced teachers, and food waste experts have developed these sessions to be both engaging and educational.
Full details of the sessions and more information can be found now on our event page here: www.ukharvest.org.uk/nourished
The sessions coming up that could be of interest.
SESSION 2 – Cook-A-Thon Weds 29th March 10am-8pm (Live on our Youtube Channel)
There will be 2 x cook-a-long sessions and special guest talks throughout the day.
Food & Fuel Live Cook-athon (School's Session) Tickets, Wed, Mar 29, 2023 at 10:00 AM | Eventbrite
Food & Fuel Live Cook-athon (Family's Session) Tickets, Wed, Mar 29, 2023 at 6:00 PM | Eventbrite
Topics throughout the day will include:
Food & mood – how what we eat can help to shape our day/wellbeing
Physical fitness & eating clean
Energy efficient cooking. – air fryers
Feed 4 vegan food for the family for a fiver
Shopping effectively & efficiently
Community food hubs
Cooking what we have Ready steady cook style challenge (with visiting chef)
Finishing with a loving your leftovers session – cooking with those bits leftover, being creative and preventing waste.
SESSION 3 Cook-A-Long
Cook with us Tickets, Mon 24 Apr 2023 at 14:00 | Eventbrite
kind regards,
Donna Martin
Community Engagement Manager/Fundraising
UKHarvest