Eastcote Residents' Association has worked on behalf its local residents for more than 90 years. If you need help or advice on community matters, policing, planning, etc, we may be able to help. We produce circulars on items of local interest and operate an email newsletter which we circulate to those who opt-in to receive various community updates. Whether you are new to the area or a long-term resident, joining the ERA will provide you with many benefits and give you a platform to share your views about the area.
Still have questions? Why not look at the most commonly asked questions below, or you can email era@eastcotera.co.uk if you don't find an answer to your question.

What is the Eastcote Residents Association?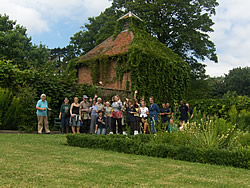 The Eastcote Residents' Association (ERA) is a not-for-profit, non-political association organised by volunteer Eastcote residents to monitor local issues and act on behalf of Eastcote residents where appropriate. Membership is open to all residents of Eastcote and costs just £2, per household, per year. New members are always welcome and interest in joining the Committee is encouraged. Eastcote Residents' Association has always sought to protect and watch over the interests of local residents. No issue is too big or too small to be taken up, whether raised by a group or an individual. Sometimes there are conflicting interests which the Association tries to reconcile. If it cannot, it hopes to present the issues without bias.
Is it Something to do with the Council?
No – The Association is not a political body and has no political affiliations. But over the years it has established, and will continue to maintain, strong links with our local elected Councillors of whatever party.
The Association also has valuable contacts with the Council Officers dealing with planning and traffic, the Police and local transport services, and is represented on the Hillingdon Alliance of Residents Associations, Community Voice, Police Safer Neighbourhoods Panel, Ruislip Woods, etc. It also has links with nearby Residents Associations.
How Does it Function?
The Committee is elected at the A.G.M. held annually. The Association holds monthly committee meetings, except in August and December, which are attended by Committee Members, Local Councillors and interested residents and local issues are reported and discussed. It also publishes its newsletter, "ERA News", twice a year. This is distributed through a network of Road Stewards who also collect subscriptions and act as a link between individual members and the elected Committee.
Who Runs the Organisation?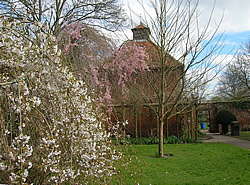 The Association is served by a Committee. Some Committee members are responsible for a specific matter of interest, for example, planning, police, health, transport, conservation and woodlands. Details of all local planning applications are sent to the relevant Committee member, who examines any which appear to conflict with residents' interests. When the Association feels unable to support particular objections, it advises those concerned how best to register their view with the Council or other appropriate authority.
Who is on the Committee?
The Committee currently comprises of 16 officers and committee members and meets at 19:30 on the 4th Wednesday of the month at Elsie Fisher Room, at St Lawrence Parish Church in Bridle Road. The current committee structure comprises of Chairman, Secretary, Treasurer, Chief Road Steward and Lead members responsible for Planning, Police, Health, Conservation and Transport and General Committee Members. Our local Hillingdon Councillors also attend and take back concerns or brief us on local matters.
Who Are the Members?
The Association represents all residents of Eastcote. The Area covered by the Association is shown on The ERA area map.
How Can I Help?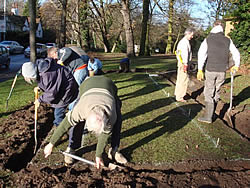 As well as becoming a member, you can be a Road Steward. Road Stewards are responsible for delivering the bi-annual publication 'ERA News' to homes within their designated area and collecting the annual £2 membership fee. There is no set quota of homes that each steward covers; it is entirely up to them.
Are there rules to the ERA?
Yes, both members & the committee are bound by the "Eastcote Residents Association Constitution"  click here to download a copy (pdf format).