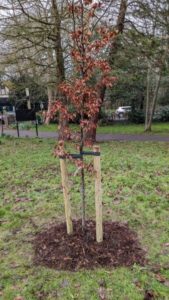 On Tuesday March 14, there was a tree planting session held at Eastcote House Gardens.
In total 7 different trees were planted, most in the wild orchard area,outside the east wall of the walled gardm.
Two were dedicated to past and present gardeners and one by the Eastcote Churches.
Three others replaced some old trees and the final one, the Coronation tree, a favourite of King Charles, is a copper beech located close to the Queen Elizabeth Jubilee bed.
Thanks to our Ward Councillors, the two families and the Churches who contributed to the funding of this project