Last chance to have your say about the proposed new Eastcote Ward. There will be no further consultation…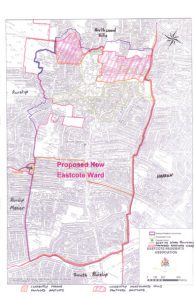 Eastcote is currently split in the middle and across several Council Wards. As a result of discussions within the Hillingdon Alliance of Residents' Associations it was decided that
• wards based on and named after locally recognisable communities was not only the way forward but highly desirable
• split high streets/conservation areas etc. were undesirable
• achieving this would not necessarily be the same as achieving electoral parity
and because of this last point
• existing Residents' Association boundaries would remain unchanged.
The Local Government Boundary Commission for England has recommended that most of Eastcote becomes one ward, with its conservation areas and shopping centre intact. This is currently only a proposal and the Commission may make changes depending on what replies they receive, so it is just as important to let them know that you like the new arrangement as it is to suggest changes.
The new boundaries can be seen by using this link to an interactive map. It is very VERY slow to load so remember 'patience is a virtue'. Use the box with arrows in to move the area you want to look at into the middle of the screen and then the + sign at the top of the map to zoom in and WAIT…
Further up the page is a green box 'HAVE YOUR SAY'. Please take the time to respond, it is very quick. Name address and a small comments box – no long explanations necessary…