21st November in The Stables from 5.30pm-7pm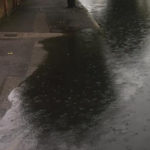 Meeting Update – Thank you to everyone who reported surface water flooding to Thames Water, as they will now be at this meeting. Please remember Thames Water will only interact with those directly affected they will not respond to a third party so  you need to attend in person. 
ERA asked for this meeting to discuss the serious situation regarding surface water flooding in the area between Bridle Road and North View including Eastcote Park Estate. The official local rainfall recorded was 38mm (28mm in 2016) but a local resident recorded 73mm (32mm in 2016) which fits with the many observations that there was much more water 'running around' than in 2016.
Consequently, a meeting has been organised by the council's Flood and Water Management Officer.
Please encourage everyone affected to attend this meeting bringing with them as much detail as possible about this latest flooding event and any historical information they may have.
ERA also asked Thames Water to send a representative and they 'will try' but were told that their records show only a few reported cases of flooding in Eastcote and that as far as they are concerned there is very little historical evidence of flooding in Eastcote. So, if you, or anyone you know hasn't yet reported local flooding please do so.