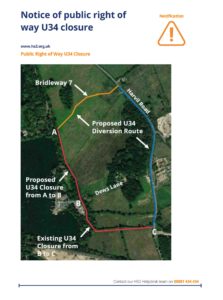 Notice of works at Dews Lane & footpath closure from HS2:
High Speed Two (HS2) is the new high speed railway for Britain. As part of the railway's construction they are continuing preparatory works within Hillingdon.
U34 Footpath Closure
The U34 Public Right of Way is currently partially closed from Dews Lane to Harvil Road. This closure is being extended northwards to the junction with Bridleway 7 from 2nd March to June 2020. Signage will indicate the section of footpath that is closed (see attachment) and an alternative route will be available along Harvil Road and Bridleway 7 which is currently diverted across Harefield Moor. This is to ensure public safety during the works including works to modify access around
Dews Lane.
Tree planting
Further tree planting will be undertaken at the site to the north of Dews
Lane. This work is expected to be undertaken in the Spring.
Fencing work continues
Fencing works will continue on land in the vicinity of Dews Lane to
secure the area for contractors to work in a safe manner. This will
include areas of vegetation clearance, including some trees. Some of
this work will require temporary stopping of traffic on Dews Lane under
traffic control. These works will be ongoing until late May.
Archaeological work continues
They have been carrying out works to get a better understanding of any
significant archaeological remains which are in this area. Excavation of
trial trenching is almost complete in some areas and mitigation works to
protect areas of interest have commenced. This work is expected to
continue until late May.
If you have a question about HS2 or their works, please
contact HS2 Helpdesk team on 08081 434 434
or email hs2enquiries@hs2.org.uk