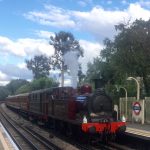 Further to this post from last week, HS2 have now written to say that the closure of Breakspear Road South has been postponed to the summer holidays (July 19).
Many thanks to all who were involved in this campaign.
Please note that HS2 have stated that it may take several days to organise the removal of the road closure signs.
Regarding the closure of Breakspear Rd South, our MP has written to HS2 as follows (full letter is attached here):
Mr Allan Cook CBE DSC
High Speed Two (HS2) Limited,
21 May 2019
Dear Alan,
I am writing in response to your letter dated 17 April, following the decision taken by HS2 to fully close Breakspear Road South for four weeks from 31 May, to be followed by single lane closures.
Further to our meeting on 2 April, my letter dated 3 April, and your response, it is clear that any prospective closure of Breakspear Road South is a priority issue for my constituents. You advised in your letter to me that: "we recognize that the community is keen for us to move the planned closure back to the school holidays. We are currently investigating whether this is possible and will inform the community and your office about developments in the coming weeks."
On behalf of my constituents, I repeat, as I did at our meeting, the request to defer the Breakspear Road South closure until the school holidays. This in itself is an undoubtedly reasonable and pragmatic request, which seeks to reduce the impact of the closure upon the community. In subsequent engagement between the community, my office, and the HS2 community engagement team, it has become clear that HS2 intend to go ahead with the road closure at the end of May.
My understanding is that HS2's plan, as communicated to the community by the signage which has appeared in the constituency, and through contact with HS2's engagement teams, has triggered deep frustration amongst residents. I fear that the announcement has reinforced the perception that HS2 are not interested in engaging with the community in seeking to mitigate disruption in a constructive way.
It is my understanding that the closure has been scheduled to commence on 31 May, rather than at the outset of the school holidays, due to the prospective impact of utility outages. I have been advised that the provision of utilities, in addition to business considerations, has impacted the decision to schedule the closure of Breakspear Road South.
My view is that the reasoning provided to the community to-date is too vague, and lacking in sufficient detail. My constituents require a clearer explanation as to why HS2 are continuing with this course of action, in the face of community opposition.
I would be grateful if you could provide me with a detailed explanation of why HS2 are continuing with this course of action. I am mindful of the ongoing risk of community disengagement, and I would encourage HS2 to give the local community every possible chance of understanding the rationale for HS2's decision, insofar as possible.
I would be grateful if you could provide me with a response to this letter by the end of the week, so that I may circulate HS2's position in response to the residents' concerns, ahead of the commencement of the road closures next week.
Please do let me know if you require any further information.
Best regards,
The Rt. Hon. Nick Hurd MP