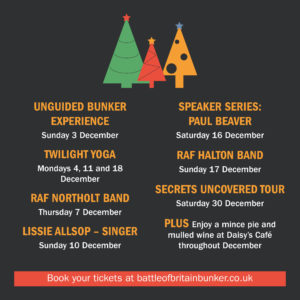 Attached are events at the Battle of Britain Bunker over the next few weeks. We have a programme that will hopefully be of interest to everyone from family activities, concerts, yoga sessions and interesting speakers! This weekend we have Caroline Paige talking about her extensive RAF career at 11.30am in our Auditorium.
Mulled wine and minced pies will be available to buy during December at Daisy's café. Our gift shop is also stocked with lots of great present ideas for all the family.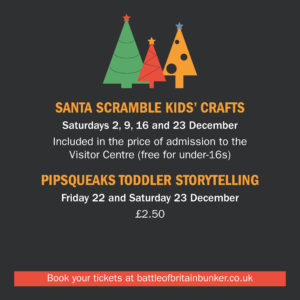 We hope to see you and a Merry Christmas from the Battle of Britain Bunker!
Best wishes,
Battle of Britain Bunker, Wren Ave, Uxbridge UB10 0GG
Battle of Britain Bunker: bunker@hillingdon.gov.uk | 01895 238154 | Battle of Britain Bunker