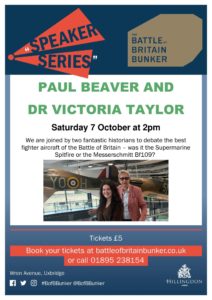 Attached is information about our events for October at the Battle of Britain Bunker.
This weekend we have historians Dr Victoria Taylor and Paul Beaver debating the best aircraft of the Battle of Britain at 2pm.
On the 21st October at 11:30am we have RAF Curator Peter Devitt on the 'Pilots of the Caribbean': Volunteers of African heritage in the RAF. Speaker Series 21st Oct
Tickets can be booked online by selecting the date of the event on the calendar or you can call/email and we'd be happy to assist you.
Best regards,
Battle of Britain Bunker
Battle of Britain Bunker, Wren Ave, Uxbridge UB10 0GG
Battle of Britain Bunker: bunker@hillingdon.gov.uk | 01895 238154 | Battle of Britain Bunker