Three Choirs Concert
Saturday, March 30 @ 7:30 pm

-

9:30 pm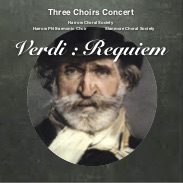 Three of Harrow's premier choirs are preparing for a major joint event on Saturday, 30th March at Watford Colosseum when they will be singing Verdi's Requiem. The concert, which has been more than two years in the planning, promises to be a very special occasion indeed with around 200 singers performing a work that many people believe to be the pinnacle of the choral repertoire.
This 2019 'Three Choirs Concert' is the latest collaboration in a 30-year tradition among Harrow Choral Society, Harrow Philharmonic Choir and Stanmore Choral Society. All three are known for very high performance standards and their combined strength, accompanied by a full orchestra and four world-class soloists, will allow the Requiem to be performed in the manner Verdi intended. Watford Colosseum is one of the few concert halls in the Home Counties capable of accommodating the choir, orchestra and audience anticipated for this event.
The conductor will be Simon Williams, who is Music Director of Harrow Choral Society. Simon is a Director of the Royal College of Organists as well as Organist and Director of Music at St George's Church, Hanover Square. He is also an accomplished musician in his own right and in great demand to perform organ recitals throughout the UK and mainland Europe, as well as broadcasts on the radio.
In 2017 soprano Anush Hovhannisyan represented her country in Cardiff Singer of the World and was a finalist in the 2018 International Opera Awards. Canadian-born bass Trevor Bowes is internationally acclaimed both for his voice and his musical interpretation and delivery. They are joined by one of the UK's best-loved tenors, Alexander James Edwards, and mezzo soprano Sarah Pring whose work is in high demand internationally. The singers will be accompanied by the acclaimed Trinity Orchestra – also Harrow based – with over 60 instruments including off-stage trumpets and the inevitable Verdi Bass Drum!
Tickets can be ordered through the Harrow Choral Society website www.harrowchoral.org.uk , telephone 020 8863 7830 or email boxoffice@harrowchoral.org.uk